While surfing and researching more on a good bit to transition Milo with, a lightbulb suddenly hit me on the physical mechaniques of a snaffle shank.
While in theory, a snaffle shank sounds like a good idea; snaffle to feel the same in the mouth, shank to introduce leverage. Thanks to a comment by Kate, I began thinking about what kind of pressure the bit actually applies to the mouth. A broken mouthpiece means that when pressure from the shank is applied (say, picking up the bit as a rein would), the mouthpice falls downward in the inside, physically breaking the snaffle. This means that pressure would be applied to the tongue from the snaffle. This is a very different feel than what Milo now has in the traditional snaffle; in no way is the snaffle going to give that type of pressure. Wow. So the theory of the snaffle shank really does not play out the way you may think and can actually be more severe than a port or solid mouthpice.
So what would be a good bit than? Maybe I really should try the Myler Level 2 I currently have. It has a curviture to the mouthpiece which is good. But what I see hindering is that the shanks swivel up and down, meaning it would deliver the leverage that a solid shank would. This doesnt seem right either.
Maybe I need a mouthpiece like the Myler, with the shank of something more like the snaffle shank...so I need a combination? Maybe something like this: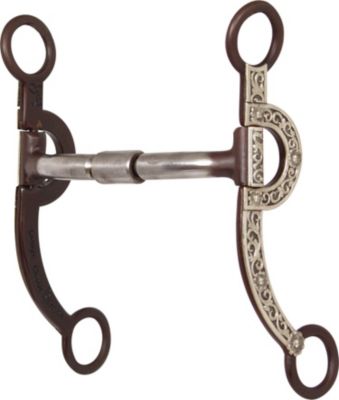 While I dont actually like the looks of this bit, the mechanics seems to be a better option for us.
I know Im sounding wishy-washy, but for my thought processes to work I need to think things thoroughly through....
Maybe moving into a bosal is the next option even? That seems that it is the tradition road to a finished bridle horse...and I have ridden in bosals before and quite like it.
More thoughts and opinions welcomed!!
Edit: Alright Ladies, I think I found the bit that should functionally work the best, as well as make me happy about the way it looks (I know riding isnt about fashion, but a girl can want, right?)
Its called the Myler Black Steel Seven Shank MB 02, Size 5". Singing to the tune of $99. Wow. But maybe I could sell the other...or a few other things to get it? Or maybe just maybe Ill get lucky on ebay or craigslist....one can hope. What I can do though, is when Milo is ready put him into the Myler that I have and asses what he thinks again.