Dont you hate it when you order something in and when they get here they either dont fit or dont match the description? The boots I ordered back in March came in AFTER the rodeo (ok I guess) but they dont fit. Plus, the website said they were a single stitch welt, when in reality, they are a double.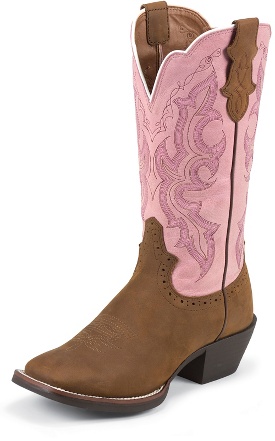 These are them, the Justin Stampede Punchy. Too wide in the instep and heel, but if I gota B width they would be too tight on the bow, and if I got an 8 instead of 8.5, too short in length. Oh well. Bad to the drawing board.
It seems I cannot get anything else but Ariats to fit well, but I cant seem to find one that I want! Bear in mind, the boots I get next are SUPPOSED to replace the Ariat Probaby's for riding.
Any Ariats that you LOVE? I would like a wide square and cowboy heel. Ive been mulling over the Ariat Rodeobaby's
but am not sure about the color (they also come in a blue top - but I already have a pair with a blue top!), and whether or not to get the short height (8") or stick with that I have with the Probaby's and Crossfire (10" and 11"). Im concerned that the shorter height may be a problem in the winter mud. In addition, I know that the shorter heel starts to hurt my heel and back after too long of wearing.
Any thoughts?